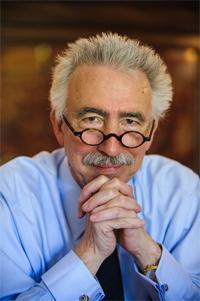 Meet Nicholas Dirks, Berkeley's new chancellor
As Columbia's executive vice president and dean for its faculty of arts and sciences since 2004, Dirks oversaw the academic administration, operational and financial management, long-term academic and financial planning, and overall direction of 29 departments for the humanities, social sciences and natural sciences and six schools: Columbia College, the Graduate School of Arts and Sciences, the School of International and Public Affairs, the School of the Arts, the School of General Studies and the School of Continuing Education.
Before going to Columbia to chair and rebuild the Department of Anthropology in 1997, Dirks taught history and anthropology at the University of Michigan, where he co-founded the interdepartmental Ph.D. program in anthropology and history and directed the Center for South and Southeast Asian Studies. He taught Asian history at the California Institute of Technology for nine years before moving to Michigan. Dirks has family connections to California as well. His late father served as the vice chancellor and dean for humanities at UC Santa Cruz in the 1970s, and his mother is a longtime resident of California.