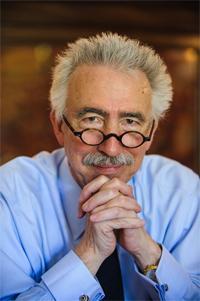 NICHOLAS B. DIRKS became the 10th chancellor of the University of California, Berkeley on June 1, 2013. An internationally renowned historian and anthropologist, he is a leader in higher education and well-known for his commitment to and advocacy for accessible, high-quality undergraduate education in the liberal arts and sciences, to the globalization of the university, and to innovation across the disciplines as well as in applied and basic fields.
Before coming to Berkeley, Dirks was the executive vice president for the arts and sciences and dean of the faculty at Columbia University, where, in addition to his work on behalf of undergraduate programs, he improved and diversified the faculty, putting special emphasis on interdisciplinary and international initiatives. The Franz Boas Professor of Anthropology and History, Dirks joined Columbia in 1997 as chair of the anthropology department. Prior to his appointment at Columbia, he was a professor of history and anthropology at the University of Michigan for 10 years, before which he taught Asian history and civilization at the California Institute of Technology.
Dirks has held numerous fellowships and scholarships and received several scholarly honors, including a MacArthur Foundation residential fellowship at the Institute for Advanced Study at Princeton, a Guggenheim Fellowship, and the Lionel Trilling Award for his book Castes of Mind. He is a fellow of the American Academy of Arts and Sciences, and serves on numerous national and international bodies, as adviser or member of the board. He is also a Fellow at the Council on Foreign Relations.