Chancellor's Community Partnership Fund


Contents
(Chancellor Dirks presents goalball player Judith Lung with her jersey. Goalball is a program of the 2015-2017 recipient Athletics for All partnership. Photo by Kevin Ho Nguyen.) 
The 2017-2018 Chancellor's Community Partnership Fund cycle

In the 2017-18 grant cycle the CCPF will make up to $276,000 in grants to innovative campus-community partnerships designed to improve the quality of life for Berkeley residents. Berkeley-based collaborative projects that focus on the arts and culture, community safety, economic development, environmental stewardship and education are encouraged to apply.  Proposed projects must include at least one university and on Berkeley community partner. 
Potential applicants were invited to attend a Community Mixer on October 25th to learn more about the application process and explore potential community and university partnerships. The mixer was a success, with nearly 60 campus and community attendees who met the Advisory Board and explored partnership ideas at Skydeck-Berkeley, a former Partnership Fund grantee. Interested applicants can download the agenda and PowerPoint from the Mixer.
All grants will be for one-year projects or programs. Education related grants applicants are required to demonstrate that their project is aligned with and furthers the objectives of the 2020 Vision for Berkeley's Children and Youth. The 2020 Vision is Berkeley's community-wide effort to end the disparities in academic achievement that exist along racial lines among children and youth in Berkeley.  The 2020 Vision partners include: Berkeley Unified School District, the City of Berkeley, Berkeley City College, UC Berkeley and several community based organizations. More information about the 2020 Vision for Berkeley's Children and Youth will be provided at the mixer.  
Applicants must complete a Pre-Application form, due December 15th, 2016.  Eligible projects must have at least one community partner and one university partner. UC Berkeley student organizations (actively supported by a faculty or staff advisor) are encouraged to apply.
Fund Application Support Documents
(Caption for photo to the right: Lacuna, from the first Bay Area Book Festival (Fund recipient 2016-17) was a monumental, participatory art installation.)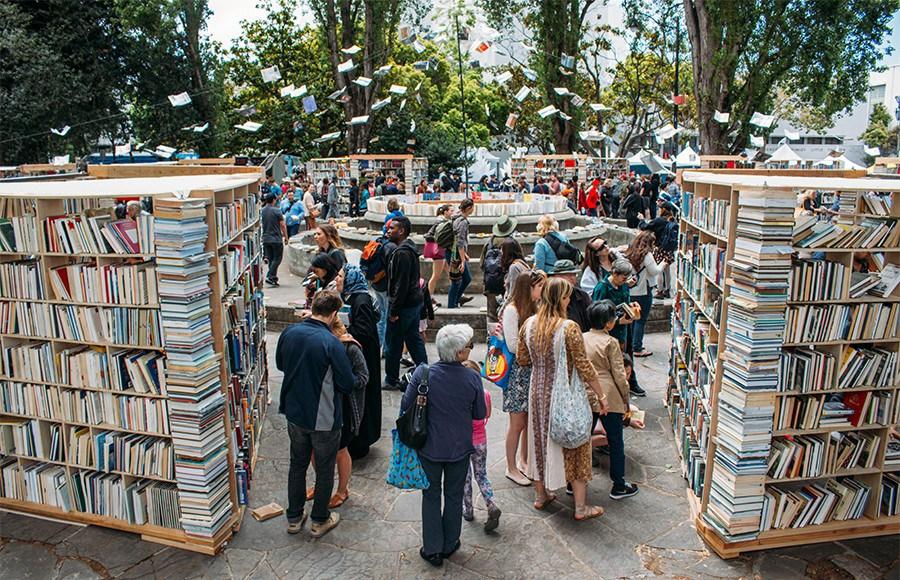 2017-18 GRANT application TIMELINE
(Please note, next year's grant timeline will be very similar to the below.)
Fall semester dates
October 3, 2016: Grant Application Cycle Launched
October 25, 2016: Community Mixer (4 to 5:30 pm at the Skydeck/Berkeley, 2150 Shattuck Avenue, Penthouse Floor)
December 15, 2016: Pre-Application Forms Due

Spring semester dates
February 2017: Full Applications Requested from Selected Applicants
March 13, 2017, no later than 5pm: Full Applications Due
May 2017: Partnership Grant Awards Announced
Summer 2017: Funding released
The 2018-19 cycle will launch in the 2017 fall semester. See the above dates to get a sense of the next cycle's deadlines.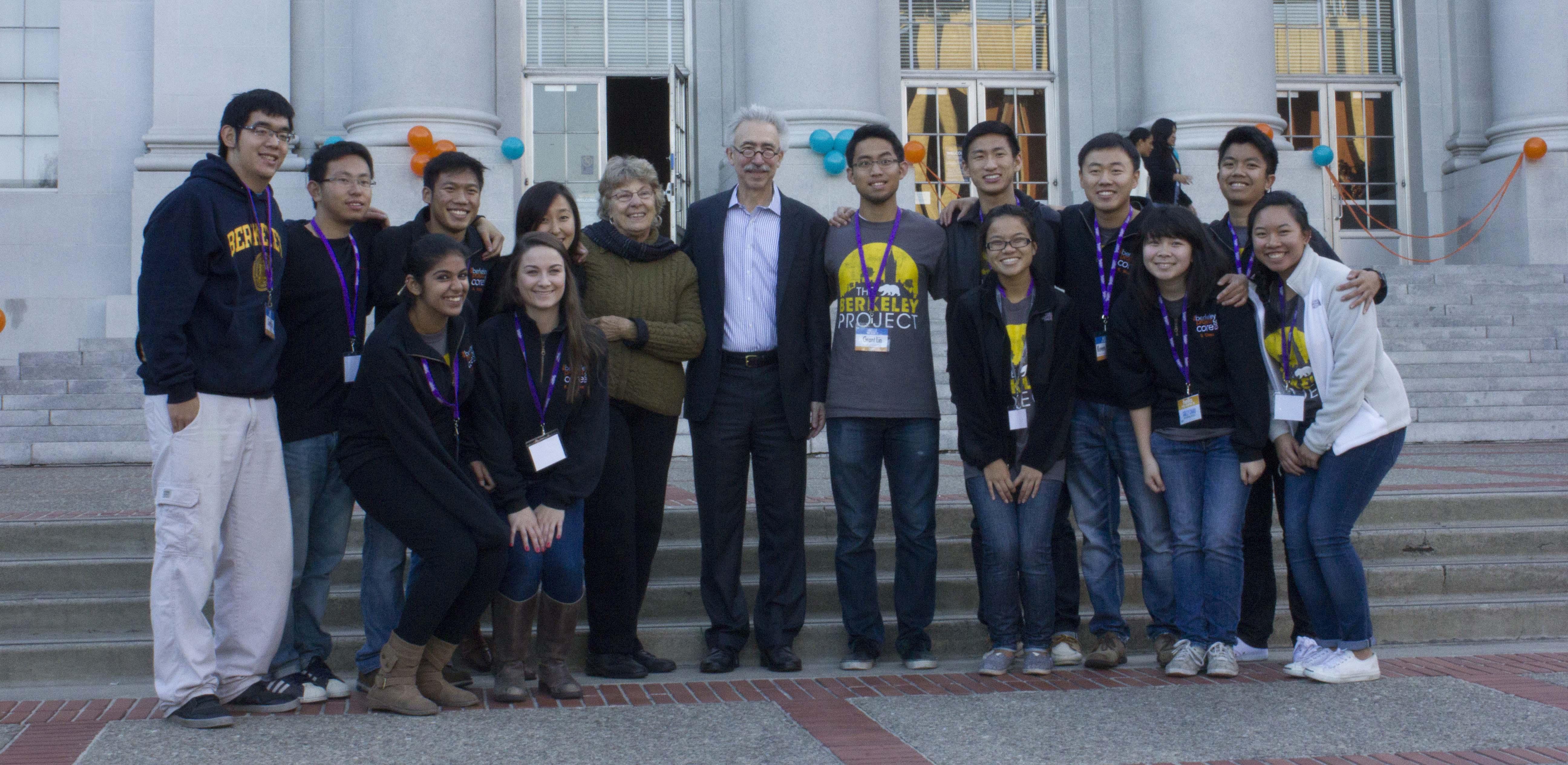 Chancellor Nicholas Dirks and Cal students participate in Berkeley Project Day (2013)


ABOUT THE FUND
Established by Chancellor Robert Birgeneau in 2006 and continued by Chancellor Nicholas B. Dirks, the UC Berkeley Chancellor's Community Partnership Fund (the Partnership Fund) supports projects and programs that establish, extend and strengthen collaborative partnerships between UC Berkeley and the wider Berkeley community. The Partnership Fund seeks to enhance the quality of life for people who live and work in Berkeley by providing grant funding to neighborhood improvement projects and community service programs that link the university's energy and resources with those of the community. For more information about the history of the Partnership Fund, see the CCPF Community Report (download PDF) or download the FAQ (download PDF).
The Partnership Fund supports neighborhood improvement projects and community service programs that utilize collaborative relationships between UC Berkeley and the community to address critical needs in the following thematic areas:
Arts and Culture
Community Safety
Economic Development
Education
Environmental Stewardship
Chancellor's Community Partnership Fund 2016-17 Recipients
The Chancellor's Community Partnership Fund (CCPF) is thrilled to announce the 2016-2017 recipients. A total of $250,000 will be awarded to 18 partnerships that aim to improve the quality of life in Berkeley through education, art and culture, economic self-sufficiency, neighborhood development, and community safety. Each of the funded projects will be carried out collaboratively, featuring a partnership between a local organization and UC Berkeley, students, faculty or staff. Entering its tenth year, the Partnership Fund has awarded $2.5 million since 2006 and supported 149 partnerships. This year's 18 partnership recipients were selected from a pool of 43 proposals totaling more than $1 million in funding requests. 
PAST PARTNERSHIP FUND GRANT RECIPIENTS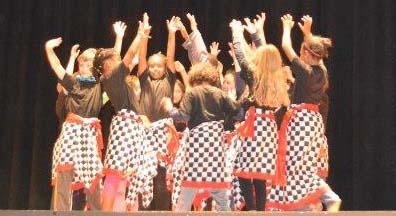 Pasangan Partners (2012)
 PARTNERSHIP FUND COMMUNITY REPORTS
ADDITIONAL INFORMATION
For more information about the Fund or if you have questions about the grant application, please e-mail calpartnershipfund@berkeley.edu or contact UC Berkeley's Office of Government and Community Relations at 510-643-5299.
Berkeley Unified in Literacy Development (2012)