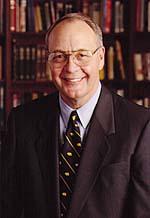 BEAR IN MIND
Conversations with the Chancellor
Chancellor Berdahl's final
"Top of My Mind"
136th Charter Day Farewell Remarks
Chancellor Berdahl reflects on the past seven years
Conference on the Warren Court
The impact of the Warren Court on this fiftieth anniversary of Brown vs. Board of Education.
"How Public are Public Universities in the United States?"
"Who owns the University," is one question that numerous critics of higher education have been asking.
Clark Kerr Memorial
Commemorating the remarkable life of Clark Kerr.
UC Berkeley's Admissions Process
Candid Conversations.
Introduction of President Robert C. Dynes
18th President of the University of California.
Honoring Richard C. Atkinson
Chancellor Berdahl's Remarks at President Atkinson's Dinner.
Discussing the State Budget and the University
with Executive Vice Chancellor and Provost Paul Gray and Vice Chancellor Horace Mitchell.
Chancellor Berdahl to Step Down
Returning to Teaching.
A Timeline of Robert M. Berdahl's Years as Chancellor of UC Berkeley
Campuswide Memorial Service
Remembering Campus Community Members Lost in 2003.
Mourning and Remembrance
Remembering September 11, 2001.
Civil Debate and Reasoned Discourse Must Prevail
Middle East Violence Impacts the Campus Community.
Chancellor's Summer Letter
A Summary of the Past Year.